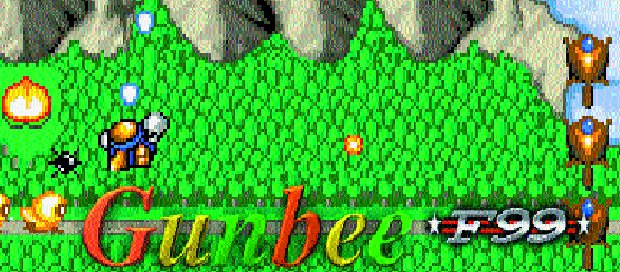 ---
Deutsch - Imprint-Privacy Policy - Main Page - News - Screenshots - Download

ASD - Forum - Order - APC&TCP
---
Main Page: GunBee F-99
Here is GunBee! Take over the part of the heavy armoured little bee and rescue the lovely Lady Akiko from the claws of the evil Lord Khenmir. For this, you have to fly your way through five exciting japanese-comic-style-levels to face the evil boss by yourself.
The Story:
For many years, Valstyx was a peaceful planet in the Universe. Five Magic Crystals owned by Lady Akiko, the princess of Valstyx, guaranteed the power and stability of the whole planet.
But one day things changed. Strange beasts and bizarre machines suddenly invaded the planet. It was being taken over by Lord Khenmir's evil forces.
In a surprisedly attack, the Soldiers were unable to defend the Royal Palace. And while the chaos involved the kingdom, Lord Khenmir took possession of the Five Magic Crystals... and kidnapped princess Akiko.
Designed with the very best of Valstyx technology, you, as Kiara McGuire, will pilot the GUNBEE F-99, a mobile suit developed by the Royal Engineers with the hope to defeat Lord Khenmir big guardians, to recover the Five Magic Crystals and succeed in the save of the beautiful Lady Akiko.
Good luck!
System requirements:
AGA chipset, hard disk, 2 Mb of Chip-Ram free
Memory expansion or accelerator is highly reccomended to avoid slowdowns
A joystick with 2 fire buttons is also reccomended for better playability